Oral Hygiene
A clean mouth is a healthy mouth
Oral Health is Important
Good oral health helps you enjoy life.
If you protect your oral health with good oral hygiene practices like brushing and flossing, you are increasing the chances you can keep your teeth for a lifetime.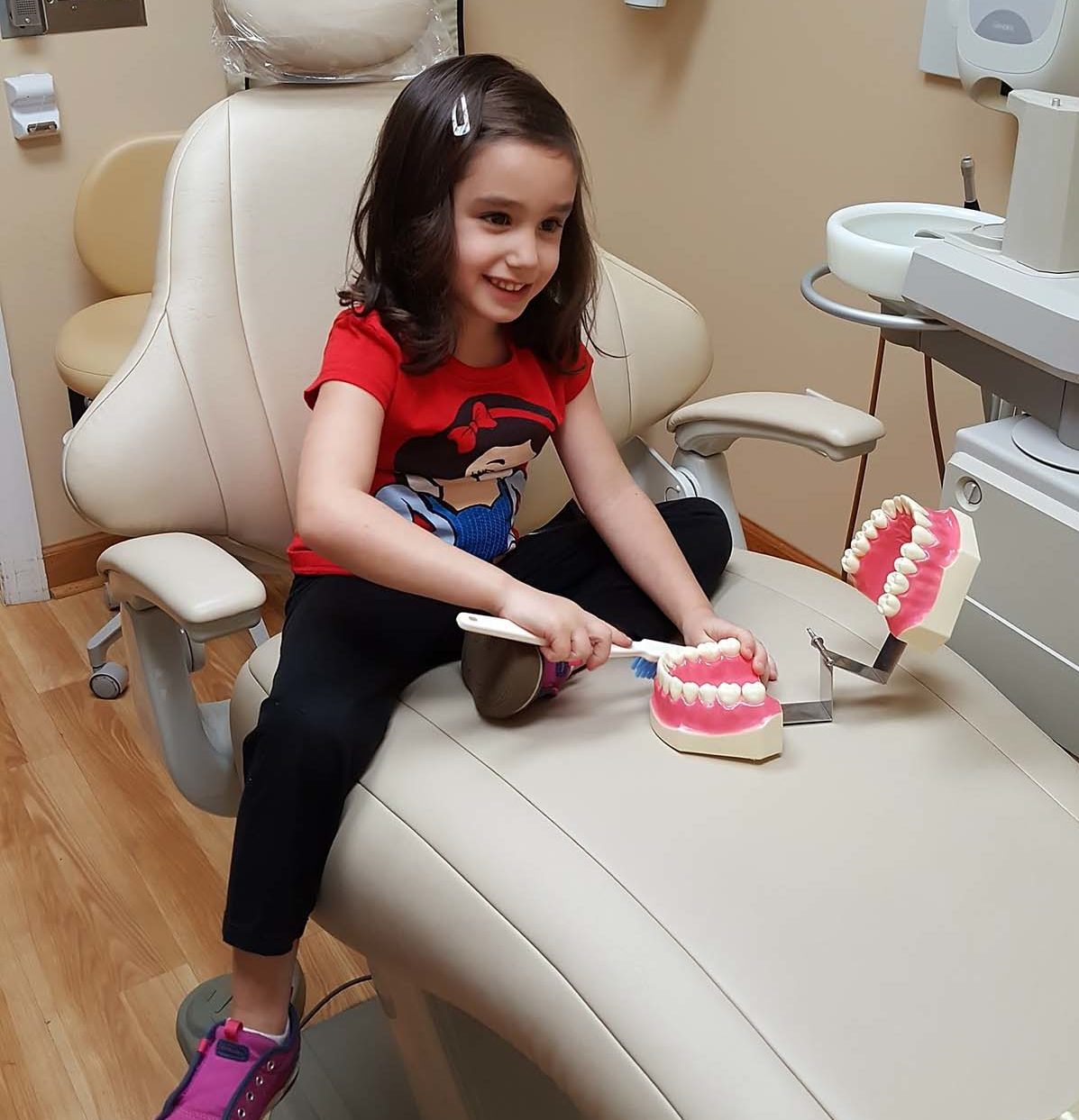 Dr. Gross's daughter practicing good oral hygiene.
Tips for Oral Health
Follow these tips to keep your teeth and gums healthy:
Brush your teeth twice a day with a fluoride toothpaste.
Clean between teeth regularly to remove plaque. For example, floss or use a water pick
Visit the dentist for routine check-ups and professional cleaning.
Drink fluoridated water. Drinking water with the right amount of fluoride protects your teeth throughout the day. Learn the fluoride content of your community's water here or check with your water utility company.
Don't smoke. Smoking increases your chance of gum disease.
Eat a well-balanced diet. Limit sweets and sugary drinks, such as soda.
The Dental Hygiene Process
At your regular dental examination appointment at Chester Springs Dental, one of our friendly dental hygienists will perform a teeth cleaning.  They use specialized tools and equipment to get in the hard to reach crevices and gap between the teeth. Also during the appointment you may get oral x-rays.
One of our dentists will do an oral cancer screening. Then the dentist will go over a treatment plan with you to ensure long-term oral health.
Preventative Care
At Chester Springs Dental, we like to prevent dental problems before they happen.  At your dental hygiene visit, we are able to identify if there are early signs of issues, like gingivitis, gum disease and cavities.  When we are able to see the onset of these potential problems at your 6-month checkup, we can use prevention techniques to help you from having more serious mouth problems. If you visit us regularly, typically every 6 months, we are able to track any changes in your oral health.  A regular check-up can save you money, time and pain in the long-term.  
Read Our 5 Star Reviews